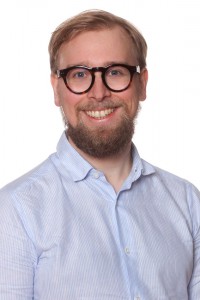 My name is Johan Bengtsson-Palme. I am doing research in microbiology and microbial ecology, primarily focusing on investigating antibiotic resistance of bacterial communities through the use of metagenomics and bioinformatics. Currently, I am a member of Joakim Larsson's group at the Sahlgrenska Academy, studying the effects of pharmaceuticals such as antibiotics in the environment. My previous research has primarily been related to toxicology in marine environments. I also have an interest in mathematical modelling of biological systems, as well as data visualization. I am also an advocate for public outreach of scientific results. I reside in Gothenburg, on the Swedish west coast. To contact me, feel free to send an e-mail to my firstname.lastname@microbiology.se
Merits
2016 – PhD in medicine at the Sahlgrenska Academy, University of Gothenburg
2011 – MSc in systems biology at the University of Gothenburg
2009 – BSc in biology at the University of Gothenburg
Publications
See "Publications" at the top-right of the page for a complete publication list.
Conference participation
Research platform participation
Invited talks
Kan läkemedelsutsläpp påverka spridningen av antibiotikaresistens i miljön? – Ledtrådar från sekvensering och metagenomik (2013-05-23)
NGS Seminar day, Laboratoriemedicin, Sahlgrenska University Hospital, Gothenburg, Sweden
Open Day in Life Sciences (2011-05-02)
organized by the Faculty of Science, University of Gothenburg
Other committees etc.
Member of the Department Board at the Department of Cell and Molecular Biology, University of Gothenburg (2008-2010)
Member of the Biology Programme Committee, University of Gothenburg (2008-2011)
Member of the Systems Biology Programme Committee, University of Gothenburg (2009-2011)
Previous positions
Address from August 2013:
Joakim Larsson Lab, Avd. för Klinisk bakteriologi/Virologi
Guldhedsgatan 10
SE-413 46 Göteborg
Office phone:
Sahlgrenska, main number: +46 (0) 31 – 342
Followed by the office code: 46 26
Affiliation:
Department of Infectious Diseases, Institute of Biomedicine, Sahlgrenska Academy, University of Gothenburg