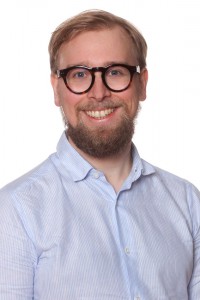 My name is Johan Bengtsson-Palme. I am doing research in microbiology and microbial ecology, primarily focusing on investigating antibiotic resistance and interactions in bacterial communities using metagenomics and bioinformatics. Currently, I am an assistant professor at the Sahlgrenska Academy, studying antibiotic resistance, invasion processes in microbial communities, effects of pharmaceuticals in the environment, and molecular taxonomy. See my complete research interests here.
I did my PhD thesis for Prof. Joakim Larsson, with co-supervision by Erik Kristiansson at Chalmers University of Technology. During my PhD, I studied the effects of antibiotics in the environment, primarily using metagenomic approaches. I have also been involved in projects related to toxicology in marine environments. I reside in Gothenburg, on the Swedish west coast. To contact me, feel free to send an e-mail to my firstname.lastname@microbiology.se
Address:
Joakim Larsson Lab, Avd. för Klinisk bakteriologi/Virologi
Guldhedsgatan 10
SE-413 46 Göteborg
Sweden
Office phone:
Sahlgrenska, main number: +46 (0) 31 – 342
Followed by the office code: 46 26
Affiliations:
- Department of Infectious Diseases, Institute of Biomedicine, Sahlgrenska Academy, University of Gothenburg
- Centre for Antibiotic Resistance Research (CARe) at the University of Gothenburg
Merits and employments
2017 – Assistant professor, Sahlgrenska Academy, University of Gothenburg)
2016-2017 – Postdoctoral researcher in the group of Prof. Joakim Larsson (University of Gothenburg)
2011-2016 – PhD in medicine at the Sahlgrenska Academy, University of Gothenburg
2009-2011 – MSc in systems biology at the University of Gothenburg
2006-2009 – BSc in biology at the University of Gothenburg
Publications
I have published more than 30 papers in peer-reviewed journals, which have been cited more than 1400 times. I have also released more than 10 freely available software packages. Please see "Publications" at the top-right of the page for my complete publication list. Here is a list of selected key publications:
Major grants
InSiDER – Invasion Success Determinants in bacteria and the Environmental Resistome
3 035 820 SEK, 2017-2020, FORMAS Mobility Grant
Please see this page for a complete listing of grants.
Research platform participation
Invited talks
Antibiotic resistance is in the air, but what does that mean?
The (un)recognised pathways of AMR: Air pollution and food, Healthcare Without Harm Webinar, 2017-03-28
Antibiotic pollution from manufacturing
Antimicrobial resistance: the environmental impact, Healthcare Without Harm Webinar, 2016-11-03
Elucidating biocide and metal co-selection for antibiotic resistance in sewage treatment plants using metagenomics
The role of metals and biocides in the selection of antibiotic resistant bacteria, Stockholm, Sweden, 2016-03-15
Kan läkemedelsutsläpp påverka spridningen av antibiotikaresistens i miljön? – Ledtrådar från sekvensering och metagenomik
NGS Seminar day, Laboratoriemedicin, Sahlgrenska University Hospital, Gothenburg, Sweden, 2013-05-23
Identification of detoxification systems in marine environments using sequence collections from global ocean sampling.
Open Day in Life Sciences, organized by the Faculty of Science, University of Gothenburg, 2011-05-02
Other committees etc.
Member of the GOTBIN organisation group, University of Gothenburg (2016-)
Member of the expert panel for refinement of the criteria used for procurement of medicines in Sweden (2016-2017)
Member of the Department Board at the Department of Cell and Molecular Biology, University of Gothenburg (2008-2010)
Member of the Biology Programme Committee, University of Gothenburg (2008-2011)
Member of the Systems Biology Programme Committee, University of Gothenburg (2009-2011)
Previous positions