Time is passing quickly, and I have not appropriately acknowledged the many newcomers we've had to the lab in the past couple of months. With this post I would like to say welcome to the lab to Máté Vass and Dani Jáen Luchoro (both postdocs), Jorge Agramont and Josue Mamani Jarro (doctoral students), as well as Nathália Abichabki (visiting doctoral student from Brazil)! Some of you have already spent a couple of months in the group and we very much enjoy having you here!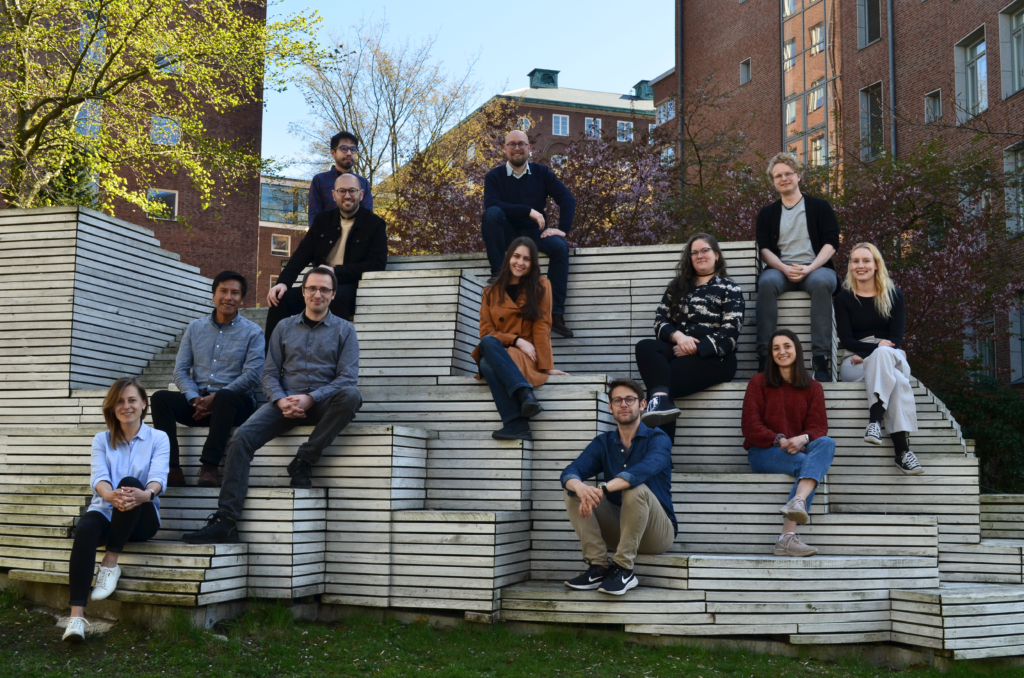 A week or so ago, we took this new lab picture with everyone (except for Lisa, who is in Amsterdam). I am very proud to be working with group of extremely talented, smart, funny and goodhearted people!
Very briefly, Dani will be working on updating the BacMet database as part of the BIOCIDE project, and shares his time between my group, Joakim Larsson's group and the Sahlgrenska hospital. Máté was recruited within the DDLS program and will work on inferring the metacommunity ecology of antibiotic resistance based on analysis of large-scale datasets. Jorge and Josue are part of the same SIDA-funded doctoral student exchange program with Bolivia and will work on different aspects of environmental antibiotic resistance and the spread of diarrheal pathogens through the environmental matrix. Nathália, finally, is working on understanding the tolerance mechanisms to antibiotics in Klebsiella pneumoniae.
All of you are very welcome to the group!
It's been a busy couple of days at the DDLS Annual Meeting, so I did not have the time to post about this exciting news yesterday, but it is very exciting nonetheless.
I have been selected by the board of the Royal Swedish Academy of Sciences as the 2022 recipient of the Einhorn SIGHT award. The award recognizes outstanding global health research work by young researchers in the context of low- and middle-income countries, and specifically I have been selected thanks to my "outstanding research and development of tools to limit the global challenge of infectious diseases and antibiotic resistance."
In a global health context, what is particularly important in the coming years is improved access to clean water and sewage systems. In addition, we also need to develop data-driven systems that can be used to implement easy-to-handle, inexpensive early warning systems and risk models for antibiotic-resistant bacteria, which we hope will be the outcome of the EMBARK program.
Clearly, a large part of this is the result of the work the entire EMBARK team has put together in the past couple of years. Another big part has been the work I have done together with Joakim Larsson in the area of antibiotic resistance in the environment. I am deeply grateful both to Joakim and my EMBARK collaborators for their contributions towards this award. Science is a teamwork, and it is a bit of a pity that we celebrate individuals to the extent we do (even though the recognition of my contribution of course is nice for me personally). Thanks to everyone who have been involved over the years!
There will be an award ceremony at the Royal Academy of Sciences on November 22, as part of a very nice event on Global Health, with the theme 'Food Safety in conflict'. You can read a short interview I did in relation to the award here.
In other notes, I was also selected as one of Clarivate as one of this year's Highly Cited Researchers (for the third year in a row!) This is of course also exciting news, although the most important aspect of that is that it shows that the research we do is useful to others!
Together with Joakim Larsson's lab, we now have an open two-year postdoc position in bioinformatics on antibiotic resistance and biocide resistance. The development of antibiotic resistance has been driven by use of antibiotics, but antibacterial biocides also have the potential to select for antibiotic resistance. However, knowledge of which genes that contribute to biocide resistance and could be associated with antibiotic resistance is sparse. To some extent, such genes are documented in the BacMet database which we have developed, but this collection of resistance genes is only scratching the surface of all biocide resistance that exists among bacteria in the environment.
We are now looking for a postdoctoral fellow to continue the important work on bioinformatic analysis of biocide and antibiotic resistance to answer the question whether increasing biocide resistance would be a threat to human health. The postdoc will be working with the development of the BacMet database to make it more targeted towards biocidal substances and products in addition to resistance genes. The tasks include bioinformatic sequence analysis, literature studies and database and web programming. The work will also include investigations of the prevalence of the identified resistance genes in genomes and metagenomes.
The recruited person will work closely with both my group and the group of Prof. Joakim Larsson, and will participate in the JPIAMR-funded BIOCIDE project. You can apply to the postdoc position at the University of Gothenburg application portal: https://web103.reachmee.com/ext/I005/1035/job?site=7&lang=UK&validator=9b89bead79bb7258ad55c8d75228e5b7&job_id=25122
The deadline is May 4, 2022. Come work with us on this exciting topic in the intersect between two great research environments (if I may say it myself!) We look forward to your application!
The newly formed BIOCIDE program, seeking to determine how antibacterial biocides contribute to the development of biocide resistance and spread of antibiotic resistant bacteria, is organizing a workshop on risk assessment of biocide and antibiotic resistance on the 9th of March this year. I will be giving a talk on the BacMet database and how that will be integrated in risk assessment and the research program. If you have an interest in the risk associated with biocides, or antibiotic resistance development, I strongly suggest that you take part in this exciting workshop, particularly if you are working for a regulatory authority.
The program targets biocide resistance and cross-resistance to antibiotics, guidance development for assessment of biocide resistance, the BacMet biocide resistance database, and the assessment of environmental exposure to biocides and risks for co-selection. The workshop will include speakers such as Joakim Larsson, Nabila Haddache, Marlene Ågerstrand and Frank Schreiber.
More information can be found here: https://www.gu.se/en/biocide/risk-assessment-of-biocide-and-antibiotic-resistance
Last week, I published 13 (!!) papers in the EFSA Journal on how to assess concentrations of antibiotics that could select for antibiotic resistance in animal feed (1-13). Or, well, you could also look at it as that the EFSA Biohaz panel that I have been a part of for more than two years published our final 13-part report.
Regardless of how you view it, this set of papers have two main takeaways:
We present a method to establish Predicted Minimal Selective Concentrations (PMSCs) for antibiotics. This method uses a combination of Dan Andersson's approach to MSCs (14) and the method I published with Joakim Larsson around five years ago to establish predicted no-effect concentrations (PNECs) for antibiotics based on MIC data (15). The combination is a powerful (but very cautious) tool to estimate minimal selective concentrations for antibiotics (1), and we have subsequently applied this method to animal feed contamination with antibiotics, but…
There is way too little data to establish PMSCs for most antibiotics with any certainty. Really, the lack of data is so bad that for many of the antibiotic classes we could not make a reasonable assessment. Thus the main conclusion might be that we need a lot more data on how low concentrations of antibiotics that select for antibiotic resistance, both in laboratory systems and in more realistic settings.
References
I just wanted to very quickly brief applicants to the recently announced PhD position in the lab. We got 71 applications in total, most of which I consider relevant for the position. The bottom line is that this will take a few days to go through, but we are working on it, and will get in touch with the top candidates when we are done. I would, however, already like to thank everyone who applied – it's amazing that you want to spend your time doing research that I find exiting!
We are hiring a PhD student to work with effects of antibiotics on microbial communities! The project will use large-scale techniques to investigate how sub-inhibitory concentrations of antibiotics affect microbial communities. Specifically, the project will examine how the ability for bacteria to colonize and invade established microbial communities is impacted by antibiotics. The project will also explore how antibiotics influence the interactions between different species in bacterial communities and if this may change their ability to withstand invasions. The goal is to identify the genes and mechanisms that contribute to change and stability in microbial communities.
A cool thing about this position is that it is fairly adaptable to the eventual candidate, and the project can be somewhat tailored to suit the profile of the PhD student. This means that we're looking for someone who is either a bioinformatician or an experimentalist (or both). Previous experience with microbial communities is a plus, but not a must.
If you feel that you are the right person for this position, you can apply here. More information is also available here. We look forward to your application! The deadline for applications is December 9.
I am happy to announce that Cancer- och Allergifonden [the Cancer and Allergy Foundation] have awarded me with the first Lennart Sparell prize. The prize was instated in memory of the foundations founder – Lennart Sparell, who passed away last year – and is awarded to researchers (or other persons) who have thought outside-of-the-box or challenged the current paradigms. A particular emphasis is given to research on environmental pollutants that affect human health through food or environmental exposure.
Naturally, I am honored to be the recipient of this prize. The award was motivated by the research I have done on the role of ecological and evolutionary processes in the external environment in driving antibiotic resistance development, and how that can have consequences for human health. Particularly, I am happy that the research that I, Joakim Larsson, Erik Kristiansson and a few others on the role of environmental processes in the development of antibiotic resistance and the recruitment of novel resistance genes are given attention. This view, which perhaps do not challenge the paradigm but at the very least points to an alternative risk scenario, has often been neglected when environmental antibiotic resistance has been discussed.

The prize will be awarded on a ceremony on June 10 in Stockholm, but I would already now take the opportunity to thank everyone who has been involved in the research being recognized, particularly Joakim Larsson and Erik Kristiansson – this award is to a very very large extent to your merit.
This week, a paper by my former roommate Katariina Pärnänen was published by Nature Communications. In the paper (1), we use shotgun metagenomics to show that infants carry more resistant bacteria in their gut than adults do, irrespective of whether they themselves have been treated with antibiotics or not. We also found that the antibiotic resistance gene and mobile genetic element profiles of infant feces are more similar to those of their own mothers than to those of unrelated mothers. This is suggestive of a pathway of transmission of resistance genes from the mothers, and importantly we find that the mobile genetic elements in breastmilk are shared with those of the infant feces, despite vast differences in their microbiota composition. Finally, we find that termination of breastfeeding and intrapartum antibiotic prophylaxis of mothers are associated with higher abundances of specific ARGs in the infant gut. Our results suggest that infants inherit the legacy of past antibiotic consumption of their mothers via transmission of genes, but that the taxonomic composition of the microbiota still strongly dictates the overall load of resistance genes.
I am not going to dwell in to details of the study here, but I instead encourage you to read the paper (hey, it's open access!) or the excellent popular summary that Katariina has already written. Finally, I want to emphasize the great work Katariina has put into this (I would know, since I shared room with her) and congratulate her on her own little infant!
Reference
Pärnänen K, Karkman A, Hultman J, Lyra C,

Bengtsson-Palme J

, Larsson DGJ, Rautava S, Isolauri E, Salminen S, Kumar H, Satokari R, Virta M: Maternal gut and breast milk microbiota affect infant gut antibiotic resistome and mobile genetic elements. Nature Communications, 9, 3891 (2018). doi: 10.1038/s41467-018-06393-w [Paper link]